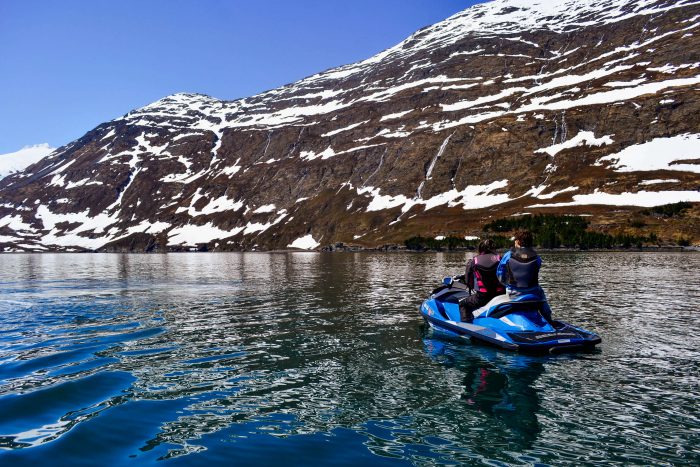 Alaska Jet Ski Tours brings you 4 hours of adventure on the back of your very own SeaDoo personal watercraft! We promise you won't get a tour of wild Alaska like this anywhere else—not even on a traditional boat ride.
Our glacier jet ski tours in Alaska are structured to give you maximum exposure to the Alaska wilderness—55 miles of breathtaking coastline from Whittier harbor to Blackstone Bay! Along the way, you'll also see 10 glaciers, including two tidewater glaciers that often play host to harbor seals.
Blackstone Bay is also home to one of the largest kittiwake rookeries in the region. As you glide along the water, you'll see flocks of birds nesting high on the cliffs and skimming the water, looking for their next meal. It's truly a sight to behold!
In addition, there's always the chance you'll see various other wildlife along the journey and whatever the weather brings—sometimes bright sunlight; other times, beautiful haze or an overcast picture of serenity.
Our Equipment
Our jet ski tour company in Alaska uses only modern, well-maintained equipment to ensure the safety and enjoyment of your tour.
Our top-of-the-line, high-performance, 2-passenger SeaDoo GTI SEs have deft handling and precision braking systems, giving you maximum control when idling in front of glaciers or navigating the coast. Enhanced stability, extra cargo capacity and best-in-class safety features make our jet skis safe and easy for anyone to pilot—regardless of skill level.
We provide everything you need to enjoy every moment on your jet ski, including insulated dry gear.
Pricing and Tour Information
We host our Glacier Jet Ski Tours throughout the beautiful summer season. In May – September, tours depart daily at 9am, 10am, 2pm & 3pm.
The cost of glacier jet ski tours in Alaska is $340 per person (16+) and $180 per passenger (10+).The max weight of each jet ski is 400lb, including dry suits, gloves, boots, helmet and additional cargo.
Book Your Tour Today
Ready to explore the beautiful Alaska coastline and get up close with some glaciers? Alaska Jet Ski Tours wants to give you an experience you'll never forget! Contact us today at 907-223-1665 to reserve your spot on one of our tours.
Alaska Jet Ski Tours does not offer guarantees. We apologize for any inconvenience caused by inclement weather. In addition, we cannot guarantee wildlife sightings.